Julián da Silva is a Maker and an educator who wants to make it easy for everyone to program Arduino microcontrollers.   The Arduino is the new hot ticket electronics development platform and all sort s of people are making things with them. The Arduino requires programming knowledge which most folks don't have. Minibloq could change all that.

Minibloq is an open source Graphical user interface and programming environment designed to work with the Arduino family of microprocessors. It will also work with Duinobot and Maple devices. To use Minbloq, the user drags icons from a menu onto the picture of an Arduino. When the user does this they are prompted to enter values into the window. Based on the values entered , Miniblog generates source code that the Ardino can use. If Minibloqs lives up to it's promise, programming an Arduino will be trivial and could spark a growth spurt in programming and invention.
I talked to Julián da Silva about Minibloq and will blog about it soon.  Julián, has four days left on his campaign to bring the Minibloq to the world. Check out his project on kickstarter. So far the campaign has been a great success. More info soon.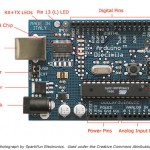 Unless you have been living under a rock you have heard someone mention the word Arduino. Arduino are an open source electronics prototyping platform intended for students, artists, designers, hobbyists, and anyone interested in creating interactive objects.