AN INTERVIEW WITH BARTON DRING
MAKE YOUR OWN LASER CUTTER
A laser cutter is one of the ultimate geek toys of all times. It makes small scale prototyping and manufacturing possible. Store bought laser cutters cost roughly the same as a compact car. Barton Dring changed all that by telling folk how to Make your own laser cutter. Barton needed a place to post his DIY laser cutter project and so he started Buildlog.  Creating a build logs to share the step by step the details of how to make a project is one of my favorite uses of the internet.  Barton Dring also plans to change how other DIY machines are made by creating Makerslide. I caught up with Bart on his way home from work and talked to him about his projects.
MEET BARTON DRING
Bill Griggs: Tell me a little about what your website buildlog.net is all about?
Barton Dring: I've always been a fan of build logs. You see them all over the place like CNCZONE and just people's webpages. I got into doing some Instructables articles and that kind of got me hooked on build logging. I entered a one of the contest [Instructables] had that gave away an Epilog laser cutter. I did pretty well and finished in the top ten. As the final round approached, I began getting excited about having a chance of getting a laser. I started to look at what the prize was and found out that it was about a 10 thousand dollar laser, and I was shocked.   It cost so much. I wasn't quite sure what I was going to do with it. And that I might have a tax liability of a couple thousand dollars, which is more than I thought it was worth. But I was still excited and wanted to win. When I didn't win I said "Well maybe I should just build my own."  So that's what I did. I thought that it would be fun to do a build log on it. So I started researching where you could do build logs. That is when I notice that the domain name buildlog.net was free.  I couldn't get buildlog.com because a log home company already had that. So .net was open so I got that.
At first I did a web style build log, where there was no forum or anything like that. But my ultimate goal was to create a center where anybody could do a buildlog. I played with a few ideas and found that the forum was probably the easiest for most people. People just weren't very savvy at creating the pages. But they were all very skilled at doing forum entries, so I built a web based build log system around the forum. And that's when it started to take off.  We have about 30 laser build logs going.
THE KIT
Bill Griggs: After your laser cutter took off. You began offering a kit for anyone to build a laser cutter. Does your kit include all the parts or just certain machined parts to make your own laser cutter?
Barton Dring: There is no all-in-one kit because the intent is to have people fab some of their own parts. Here are the drawings, fab it yourself. If you can't fab it yourself, here are some kits to supply those parts that you can't fab yourself. We have several kits but there is no all-in-one kit.  Most of the sub-assemblies can be made from kits but I don't sell the laser or the laser power supply; they are just not something I can source easily.
The original laser was supposed to be self-replicating. I tried to create a thing sort of like a chain letter. Where all the intricate machining would be done by the laser itself.  But I ended up being the only one who was making up all the parts.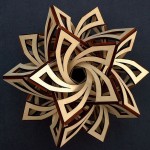 Laser Cutter Info
The Ultimate DIY Tech Upgrades...
3D CAD with Autodesk 123D: Designing...
The Makerspace Workbench: Tools...
Laser Cutting Guide for Manufacturing...
Was $189.97
Buy together now for
$149.15
You save $40.82 (21%)
Confirm options and continue...
http://www.amazon.com/gp/aws/cart/add.html?AssociateTag=cncbundles-20&SubscriptionId=AKIAJPQKINOYT775JXIQ&ASIN.1=1616285311&Quantity.1=1&ASIN.2=1449343015&Quantity.2=1&ASIN.3=1449355676&Quantity.3=1&ASIN.4=0872636860&Quantity.4=1
Bill Griggs: Do you have the parts made or do you do all that work yourself?
Barton Dring: I do any machining myself. Some of the sheet metal parts that go on the gantry are outsourced. Any screw machine parts are outsourced but the general machining, I do on my home built CNC router at home.
Bill Griggs: I've also built a homebuilt router so I know where you are coming from. Those are an amazing tool to help you make other things.
Barton Dring: I think it is the most versatile tool. It's my "go to" tool.  I'm pretty much all about lasers but my "go to" tool is the router. My next project will be a new twist on routers that will bring it into more of the mainstream.  Most people are scared off by them. I wanted to make them a little friendlier, quieter and cleaner.
Bill Griggs: I agree I think a portable router table is probably going to see its way into a lot of work shops around the country. Because, frankly, most people don't need a full sized router.
Barton Dring: There are probably no Hackerspaces that I know that actually have the router on the premises.  Because half the space is taking a class on Haskell or something like that and one guy with a router would ruin everything.
MAKERSLIDE
Bill Griggs: Aside from the laser you also had to come up with a driver board and some system for the linear rails?
Barton Dring: I've been doing motor drivers for years so that was no stretch. I took a shot at doing a laser controller and I actually made one that could do engraving. I was hoping that it would turn into an open source collaboration but nobody really jumped on. So I kind of abandoned the project and freed up the code for anyone to play with. There are a couple of guys still working on it now.
The linear bearing system on the laser is very similar to what the Makerslide system is. It takes a little bit of fabrication skills. We dumbed it down a lot in the 2.x version.  Once you get past that it is all downhill.  A lot of people were intimidated by it and for about 4 or 5 months  we have been talking on the forum about coming up with an easier solution. We had been kicking it around and I decided to go for it. It seems like it is taking off.
Bill Griggs: Barton you have done a great service to the Maker community by developing this laser cutter. You haven't stopped to rest yet because now you are tackling the cheap Linear rail problem with Makerslide. Click here to read more about Makerslide.
For a brief History of Laser Cutters Check out this.