I have been waiting several months to get a  first look at Makerslide, the new open source linear bearing system that could change the way machines are built. The Makerslide project is an open source effort to make it easier and less expensive for people to make DIY CNC machines and tools. Launched as a wildly popular Kickstarter project, The project easily exceeded its funding goals in just a few short days.
OPENING THE BOX
Well I just received my order of Makerslides from the creator Barton Dring, earlier this week.  I have to say that I am very happy with the parts I received.  The extrusions were delivered in a large Cardboard box with a label that had "Makerslide Inside" printed on it. Inside the box
each piece of extrusion was sealed inside a plastic bag and then wrapped with brown paper packaging. One thing you should be aware of is that the plastic tubes may contain a few chips of aluminum from the cutting process.  If you get these chips on your spouse's carpet you are in for a talking to. So open the bags over a trash can.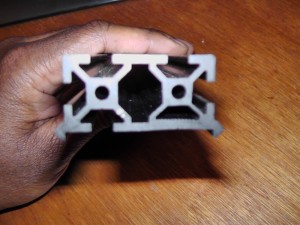 Makerslide Extrusion
Once I had the bags open I got my first chance to inspect the Makerslide. The extrusions are 40mm x 20mm in size plus an additional 6mm for the V rail section, or 46mm at the widest point. Makerslide are designed to be compatible with Misumi HSF5- 2040 extrusions.   Therefore the frame of the machine can be made from the Misumi parts and the linear bearing surfaces made from Makerslide.
The Makerslide is a very solid ridged extrusion. It is perfect for light weight machines such as laser cutters, 3D printers and circuit board milling machines. It would not be suitable for building a 4'x8' router table or for building a Bridgeport sized milling machine so keep your expectations realistic.
In addition to the Makerslide extrusion  a Delrin dual bearing V wheel  was included as a sample. These guide wheels feature a Delrin  outer surface with two sealed ball bearings installed. The Delrin  wheel was chosen instead of steel wheels because the steel wheel would cause the aluminum to wear prematurly. Three to four wheels are required to attach a bearing plate to the extrusion.

Makerslide to become a reality. Project funding exceeds expectations.
I am very happy with the materials I received. I plan to make several small projects with Makerslide, including a 3D printer, Laser cutter and a camera dollie. I made a short video of the unboxing of the Makerslide.
A CAD drawing of the Makerslide profile is available at both of these locations.
http://sketchup.google.com/3dwarehouse/search?q=makerslide&styp=m&btnG=Search