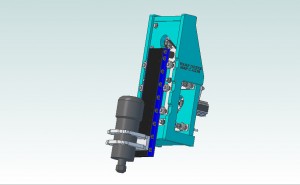 WARP DRIVE PROJECT
CNC Z AXIS PLANS
The Warp Drive Project CNC Z Axis plans: The Warp Drive Project's goal is to create a Rack & Pinion Z axis system for CNC Router tables which will provide faster Z axis travel and all weather operation while using fewer parts than conventional Leadscrew machine. The Warp Drive is a new way to make a CNC Z Axis and is adaptable to many CNC Router table designs such as the Joe's CNC 4×4 Hybrid and the CastCNC machines. The Warp Drive Project CNC Z Axis plans are now available. It is my hope that owners of CNC Router tables will be able to easily upgrade the Z axis mechanics over the course of a weekend. The current version of the Warp drive has been tested with a router weight loading of 15 pounds (in addition to the dust collection shoe and hoses). At this weight or less the Warp Drive does not require spring assist. For spindle weights above this limit, a return spring system is recommended. Nema 23 stepper motors with 305 oz./inch torque were used with a Hobbycnc Pro Driver board.
GET PLANS NOW
 Why I created the Warp Drive Project CNC Z Axis plans
I redesigned the Z- Axis of the of the CNC Router table (for the Joe'sCNC  machine) and have been cutting with it for several months. It works really well. I spent over a year working on this project and built 3 different versions before it was bullet proof.
I retired last year so now I can focus on what I am interested in, design. I want to build another machine and I need to fund the rest of the electronics to get it going. I would like to make my Warp Drive Project plans available to all those who want it. So I decided to try something new. I decided to offer the plans and template for you to Make  your own Warp Drive Project CNC  Z- Axis at the low cost of $50. With these plans you can build one of the fastest Z- axis mechanisms available, for a fraction of the cost of a commercial machine.
As an added incentive for ordering the plans, the first 25 orders will receive a copy of my report "The Makers Guide to CNC – 7 Top Tips you should know about Mach 3."

I will periodically announce further incentives to encourage you to support the project. If you feel this is a worthy cause that you would like to support  Please pledge your support by clicking the subscribe Button below. Paypal is accepted and any donations to the project will be appreciated. Make sure to check out the VIDEOS  below.
Bill
GET PLANS NOW
 SUPPLIERS FOR PARTS YOU NEED:
http://www.makermasters.com/steppermotor
http://www.makermasters.com/k2cncmount
http://mooregear.com