I recently posted about how I helped some students make a CNC Router Table for their Mechanical Engineering Technology course.  The Capstone projects assignment was to design and build a CNC Router table for manufacture. The M.E.T. program focuses on Engineering with an eye towards manufacturing. Students  learn the design, engineering and machining skills needed for a career in manufacturing. This is the story of the first time cutting.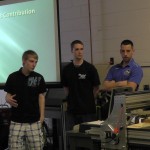 A major part of the course work is preparing a presentation of the finished project for the school faculty, community and business leaders. In this case the presentation included several Powerpoint presentations along projects along with an actual demonstration of the CNC Router Table.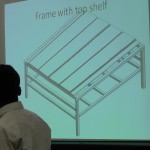 I  helped the students demonstrate the CNC Router Table by providing a G-Code file which would make a carved Logo of the school emblem. I loaded the g-code into Mach3 CNC control software and executed the cut file. The Machine used a Hitachi M12VC router to spin a 1/4″ downspiral bit. The file cut at 300 Inches per minute and took just under eight minutes to complete. The tool path include the following machine operations: profiling, pocketing, tabs and roughing.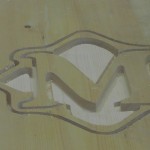 The results of the first time cutting were very promising. The tool path produced a good representation of the school logo, however there are a few areas that needed minor tweaking. A minor variation in the acceleration setting provided a big improvement. If the acceleration setting is off then the machine will cut rounded corner at high speed. There is no way to predict the value for the acceleration with out actually cutting something. Adjustments were made to the Mach3 setting and now the machine is running like a top.

SOURCES
http://www.makermasters.com/students-make-a-cnc-router-table
http://www.makermasters.com/warp-drive-project
http://www.makermasters.com/cnc-router-table-design-video-i-made-a-computer-desk
http://www.makermasters.com/diy-cnc-project-dust-deputy-cyclone-separator-cart
http://www.cnczone.com/forums/joes_cnc_model_2006/98399-bgriggs_r_p_hybrid_upgrade-4.html
http://www.routerforums.com/cnc-routing/35705-helping-students-make-cnc-router-table.html#post285166