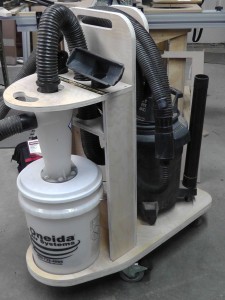 My latest DIY CNC project is a Dust Deputy Cyclone Separator Cart for my Shop Vacuum. With the help of a friend we took a project from a magazine and converted the plans to be cut on a CNC router Table. Converting plans from a woodworking magazine into a CNC project is not difficult to do and it can be fun.
The plans we used came from Volume 19 Issues 109 of ShopNotes magazine. The plans were originally designed to be made with a table saw and some power tools. The Cart is made almost entirely from 3/4″ Plywood pieces and won't take long to construct. I built my Roll-around Cart in a weekend (including time for video recording).
The main reason to make this project was to provide a single platform to mount both my Shop Vacuum and my Dust Deputy Cyclone Separator system. I had previously just used duct tape to attach the Dust Deputy bucket to the side of my Shop Vac. This arrangement never worked well and I was constantly tipping over both items by accident. I also had a very long hose for my vacuum and I was always tripping over it. This cart would make my shop neater and safer at the same time. When the magazine first came out back in January of 2010, I began converting the plans to CNC using Vectric Aspire. But before I could finish the drawings a friend of mine posted pictures of a completed project on the Joescncforum. He was kind enough to share his project files with me and I have finally gotten around to completing it.
DUST DEPUTY
The Oneida Air Systems Dust Deputy Cyclone collector allows you to effectively capture and filter Dust particle using a Shop vacuum. Any standard Shop vacuum can be attached to the Dust Deputy's plastic cyclone with out a loss of suction. The Cyclone separates and collect the dirt and debris before it gets to the vacuum filter. This prevents the filter from clogging up and loosing suction. Oneida Air Systems claim that the Dust Deputy® cyclone system captures up to 99% of the dust before it reaches your vacuum. I have been using the Dust Deputy for about two years and I really like it. I don't remember the last time I changed my dust filter or needed to. I do know that I haven't changed it since I got the dust Deputy.
You might notice some changes were made to the drawing. A handle was added for the back plate.  This makes it easier to wheel the cart around and over chords. I changed the shape in the cut out of the base to fit my vacuum. The height of the side panels was extended by 3/4 inch.This 3/4 inch allowed the center body to be a recessed into a dado which we cut into the base. I used the Kreg pocket hole jig to and screws for the joinery.  Pocket holes allow for quick assembly and the ability to disassemble the cart at a future date. The file that I used also included holders for the dust wands.  I didn't use them because my vacuum cleaner already had a holder for the dust wands.
Making a woodworking project from magazine plans and then converting the plans to CNC may seem like a lot of work but I find it's not. If I were building this project using conventional woodworking methods I would need ten tools including table saw, Out feed table, Rip Fence sled, jigsaw, forstner bits, hole saws, Random orbit sander, electric Screw driver, belt sander, pocket hole jig. By making the project using CNC, I only use 6 tools because I use the router table for for all the cutting. A Belt sander, Random orbit sander and a Electric Screw driver and pocket hole Jig are the additional tools used.  Some of you might think having a CNC Router table is an expensive luxury item but I would not necessarily agree.  I spent just over $2000 building my CNC Router. With it I can do many things a Table saw will do. I can also do many things a Traditional Router Table will do, a Jig saw will do, a hole saws will do, a planers will do, a scroll saw will do and many things a drill press will do.  A Delta Unisaw will cost you about $2800 new and you would still have to buy all the other tools I mentioned. If I built the CNC router table and shopped carefully for the other 5 tools I could get everything mentioned for less than $2800. So for the cost of a good Cabinet saw I can have a whole shop full of tools.

If you are considering taking Woodworking plans and converting them to CNC, I would hope you go for it. You will learn many useful things and also end up with a beautiful project. Once you have a CNC program on file you can make as many copies as you want for you friends. Please let me know if you would like to see more DIY CNC Projects by leaving a comment.