Part 3
CNC DESIGN SOFTWARE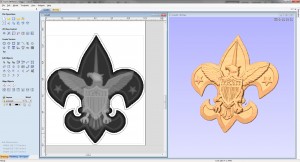 This is the third post  of this CNC Sign Projects series and I promised to talk about the CNC Design Software I used. In the last post I talked about taking a photo and doing some editing with Photoshop. The reason we needed a photo image is so that it could be turned into a photo V-Carving.  A photo V-Carving is when a pointed router bit engraves into the surface of a sign at varying depths and widths based on how dark the pixels in the picture are. Light pixel get shallow cuts and dark pixels get deep, wide  cuts. When you do it right a photo VCarve can be amazing. However it takes skill and experience to get good repeatable results.
To do the conversion work, I used a CNC Design Software program called PhotoVCarve from Vectric to create the toolpath from the image. PhotoVCarve (PVC) is the only product in Vectric's lineup which will do photo realistic engraving. I have several other Vectric products which will almost get the job done but PVC is best for this type of work. Unfortunately we will also need another program to create the other planned elements for the sign.  You can use VCarve Pro for the other elements. What I like about Vectric products is that they are easy to use and powerful. I bought a copy of every piece of their software. If you want to get started in CNC I suggest you download a free demo copy of their software to see which ones best fit your needs. You can download it here .

I first heard about Vectric around 2004 on CNCZone.  They offered a program called VCarve Wizard which simplified the design tasks of creating V-Groove carvings. Vectric kept developing their software and later released VCarve Pro. After that they added several programs to their lineup including, Photo VCarve, Cut 2D, Cut 3D and Aspire (new flagship). These products each have a niche and are affordable solutions when you consider that most CAM software prices begin at $5000…… Vectric Design software software costs between $149.00 & $2000.00. Vectric also offers bundles of products to save you money.
Photo VCarve: $149
Cut2D: $149
Cut3D $299
V-Carve Pro $599
Aspire: $1995
In this project I used both PhotoVCarve and Aspire but you could substitute VCarve Pro for Aspire because we aren't doing 3D carving.
 What each program does.
---
Perhaps the easiest way to tackle Vectric's offerings is to explain what each piece of software will do and where it fits in the production chain.
All of these programs are hybrid programs which contain a little cad and a lot of toolpath (CAM) generation ability. Each one of the programs are stand alone product but each one can is compatible with the other. Work from one program can be transferred to the other and the augmented or combined to create even more dazzling and complex designs. Vectric also has generous upgrade policies which means you can buy upward into software as you require new features.

Subscribe to our newsletter

CUT2D
Cut2D is a package that was developed with the modeler in mind. It is a stripped down version of VCarve Pro with out the 3D VCarve features. It is a profiling program which will cut out things like aircraft ribs and fuselage sides. It will also cut pockets (recesses) like the ones in a jewelry box.
What does Cut2D do?
---
* Automatically converts CAD drawings and Graphic designs to GCode / CNC Toolpaths.
* Opens most industry standard 2D vector drawing formats DXF, EPS, AI & PDF file formats.
* Pocket Machining with either raster or offset machining patterns, plus the option to ramp the cutter into the material.
* Profile Machining-running the cutter around the outside, inside or on the selected geometry, with the option to ramp the cutter into the material.
* Automatic cutter diameter compensation for toolpaths ensures parts are cut to the required size. Simply select the shapes and Cut2D compensates for the cutter diameter and shape.
* Interactive Tab / Bridge placement to ensure parts are securely held in place when cutting from sheet material.
* Automatic calculation for Outside and Inside cutting when multiple shapes are selected.
* The option to Ramp the cutter into the job is very important when cutting hard materials because it reduces the load on the bottom of the cutter.
* Drilling with option for Peck drilling cycle.
* 3D Color and 2D wire frame toolpaths Previews shows exactly what the part will look like when machined.
---
PHOTOVCARVE
PhotoVCarve:  Vectric also makes a program that will carve photographs in wood and create stunning 3D Lithophanes. PhotoVCarve  will allow you to take photos and automatically assign depths to each color. Based on these assignments the router will cut deep or shallow.  It is just a cool program that will allow you to makes some really cool projects to make family and friends happy.
 What does PhotoVCarve do?
---
* V-Groove Machining PhotoVCarve creates lines of grooves that vary in width and depth to represent the detail in a photograph or image. PhotoVCarve machines dark areas in a photograph with wide groove and the lighter areas to have narrower ones. The software automatically calculates the toolpaths based on the cutter selected and maximum depth of groove required.
* 3D Lithophane Machining.
* Lithophanes are 3D photographs that when viewed in normal lighting look a little dull and lifeless. But when back lit transform into stunning 3D pictures with depth and detail that cannot be seen in a flat 2D photograph.
* 3D Grayscale Machining
* PhotoVCarve automatically converts a grayscale image into a 3D height map that can then be carved.
---
VCARVE PRO
VCarve Pro combined all the features of Cut 2D and most of the features of PhotoVCarve, added a whole suit of tools for VCarving and a few tools that are unique to VCarve Pro. Essentially if you bought VCarve Pro you didn't need the other programs (with the possible exception of Cut 3D for multi-sided cutting and slicing).
VCarve Pro (VCP) has a great user interface that can be learned in just a few minutes. It is easy to use and allows you to quickly do serious work, which in my opinion is the mark of good software. You can also take work created in any of the other Vectric programs and enhance them in VCP. You can create a #D bas-relief in Cut3D and then bring it into VCP, add VCarving letters and cut out a profile around the project or cut the project loose from the backer board.
I intend to spend most of this thread talking about Cut2D and VCarvePro along with a sprinkling of PhotoVCarve . I think these programs are what most Makers would buy and use. Also, after I finish introducing you to the products I plan to recommend which products I would buy in what order if you are on a budget or if money was not a consideration.
What does VCarve Pro do?
---
Here is a list of VCarve Pro's features:
* 2D Design and Layout Tools
* Text Editing
* File Import & Export of DXF, EPS, AI, PDF
* Toolpath Preview
* V-Carving
* 3D Texturing
* 2D Profiling with Interactive Tabs / Bridges
* Pocketing
* Drilling
* Beveled Letters
* Molding Cutters
* Import & Trace Image Files
* Engraving Functionality
* Raised Bevel Letter Machining
* True Shape Nesting
ASPIRE
---
The flagship of the Vectric line is Aspire. Aspire is a no holds barred, full blown CAM package. It is designed to give the professional C.N.C. Machinist the power to create unbelievable products at an affordable price (relatively speaking). Most professional level CAM packages retail between $5000 and $20,000. Aspire retails for $1995. Aspire will do everything VCarve Pro will do. It will also allow you to create 3D models from a a vector outline. You could for instance take a standard line drawing clipart and convert it to 3D automatically. Aspire also lets you modify every feature of the design independently. Lofting, sweeping, Blending sculpting, depositing…..
I won't spend much time on Aspire now but what I have seen blows my mind. If you have a serious need for this kind of power, you will be glad you looked at Aspire.
 What does ASPIRE do?
---
* Installation DVD includes over 6 hours of high quality Video Training Tutorials + PDF Manuals and a 150 plus page Reference Manual
* 3D component design from vectors
* 3D textures from image files
* Import 3D Clipart models & mesh files – STL, DXF, OBJ, VRML,
VA3D, CRV3D
* Interactive 3D sculpting & blending
* 3D roughing and finishing Toolpaths
* Project toolpaths onto 3D shapes and curved surfaces
* The 2D Drawing, design and layout tools available in VCarve Pro –
layer control, guide lines and rulers etc.
* Text editing with single stroke fonts
* File import & export of DXF, EPS, AI, PDF
* Interactive sizing, positioning, node editing
* VCarving and 3D Engraving Toolpaths
* 2D Profiling with Interactive Tabs, Lead in
* Pocketing toolpaths with Ramp options
* Drilling with Peck cycle option
* Beveled Letters
* User definable Form Cutters
* High quality Toolpath Preview
*Wrapped Rotary Toolpaths
* Realistic multicolor 3D toolpath previews
*Raised Prism machining
* True shape nesting
* 3D Model Slicing
* Interactive editing of 3D models
* 50 professionally designed 3D Clipart models worth over $1,100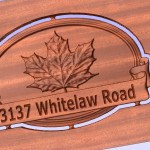 ---
There are many more CNC Design Software Packages out there. The choice of software is strictly a matter of personal choice. I use the products from Vectric because they meet and exceed my needs. The software is constantly being updated and improved. Vectric has a very active users forum which can help answer many of your questions.  The Vectric staff also is quite active and it is rare to see a question go unanswered for more than an hour or two. Vectric over-delivers when it comes to software.
If you would like to receive more CNC related information check out our free newsletter.
Subscribe to our newsletter
CNC SIGN PROJECTS: